Hurtigruten Triples 2016/17 Antarctica Capacity
Hurtigruten to triple number of berths on its 2016-2017 Antarctica Sailings with the addition of the MS Midnatsol to southernmost continent
Hurtigruten , a world leader in sustainable explorer travel, is moving the MS Midnatsol to Antarctica for the 2016/2017 season, more than tripling the company's guest capacity for sailings in this important polar region. The MS Midnatsol will join the Hurtigruten's well-known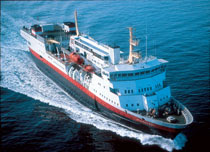 expedition ship, the MS Fram , increasing the company's seasonal berths from 2,268 in 2015/16 to 6,800 berths in 2016/17. Antarctica itineraries include highlights such as the Falkland Islands, Chilean fjords, Patagonia, the Magellan Strait and Cape Horn. Sailings will depart from October 2016 to March 2017 with prices ranging from $5,999 to $6,666 per person, double occupancy.
In its first season sailing the southern hemisphere, the Midnatsol, will feature 10 Antarctic voyages departing from Punta Arenas in the Chilean Patagonia and ranging from 15 to 18 days. Every sailing features an experienced expedition team to lead guests on exciting and educational landings and shore excursions including hiking on glacial ice dating back thousands of years, strolling near tuxedo-clad penguins, kayaking among seals and snorkeling in Antarctica's frigid waters. On-board, multi-faced scientific lectures will give guests an insight into some of the same mysteries that have attracted the world's explorers, scientists and adventurers to this remote wonderland for more than 100 years.
"This is an important strategic choice for Hurtigruten as we strengthen our position in the growing exploration market," says Daniel Skjeldam, CEO for Hurtigruten. "As a leading, responsible player in sustainable travel, we're happy to offer the modern and flexible Midnatsol to meet the growing global demand for active nature-based experiences."
To accommodate the growing demand for true adventure in the polar regions, Hurtigruten is also refining the itineraries and programs associated with their 200-berth deluxe explorer vessel, MS Fram . Using Ushuaia, Argentina as its base, the expedition teams will seek out new sites and destinations in Antarctica that are inaccessible to larger groups. Guests will have the opportunity to take on more challenging and extreme excursions such as skiing on glaciers and expedition camping among penguins.
"We are working to offer our guests a range of choices – whether it is the more traditional Antarctic experience with all the highlights one would expect when they sail aboard the Midnatsol , or take on a more challenging, activity-based Antarctica product with MS Fram , sailing to places we haven't been before," Skjeldam says. "No matter the ship, the guests will be awed by Antarctica's spectacular nature with its massive icebergs, towering glaciers and abundant wildlife."
The Midnatsol is extremely suitable for Antarctica operations as it was built for the Arctic region. Some minor adjustments will be made but the ship already has an ice class 1C rating, helipad, a redundant propulsion system and will be equipped with a state-of-the-art customized oil retention system. The Midnatsol also boasts some of the lowest fuel consumption per passenger of any ship in the industry.
In business since 1893, Hurtigruten is a world leader in exploration travel, sailing to the most remote of destinations as well as year-round along Norway's coast. The company's fleet of intimate ships, which each carry 100 to 646 guests, allows travelers to enjoy the scenery and culture of the destination in a relaxed atmosphere.
Additional information and reservations can be obtained from travel agents or Hurtigruten's visitor-friendly website ; by phone at 877-301-3117 ; or fax at 888-524-2145 . Brochures, due out in July, can be pre-ordered online or by calling 800-582-0835 .